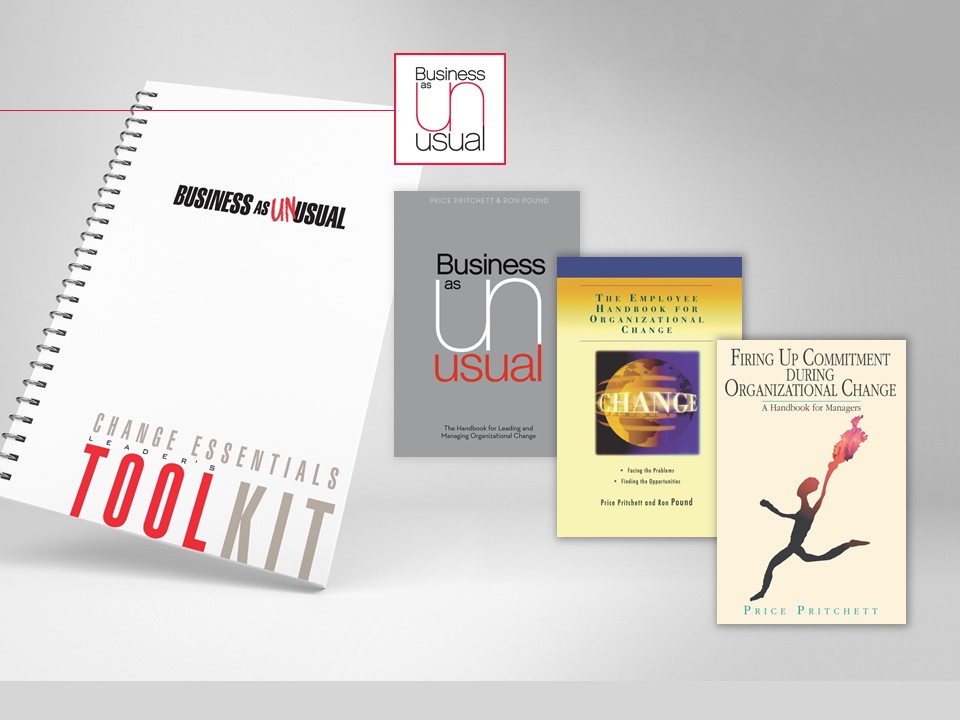 Unlock Pritchett's Powerful Tools
Hundreds of organizations have relied on this program to protect productivity, retain talent, and build resilience during transition and change.
Business as UnUsual equips managers with the tools they need to manage the critical priorities during change—communication, productivity, and resistance.
Here's What Happens When Change Hits:
Business as UnUsual is PRITCHETT's flagship program on change management.
It positions your leaders to—
Manage the predictable dynamics of change
Role model the right behaviors
Keep the workforce engaged and focused despite distractions
Direct energy away from resistance to change
Address urgent change-specific communication needs
Defend and drive operating results
This down-to-earth training gives your leaders insights, tools, and actionable steps they will believe in and can put to use immediately.
Business as Unusual Course Details
Module 1:  Change: Today's Status Quo
Module 2:  Transition Management in the Age of Instability
Module 3:  Managing Communication, Productivity, and Resistance
Module 4:  Managing the Personal impact of Change
Recognize the predictable dynamics of change
Acquire tools for managing the challenges of change around communication, productivity and resistance
Identify and capitalize on individual "change management strengths" —flexibility, innovativeness, risk tolerance, and stress tolerance.
Winds of change
Impact of Change Survey
Three guarantees of change
Becoming a change agent
Dynamics of change for individuals and organizations
Communication dynamics and coaching points
How to manage productivity with action plans and coaching points
Techniques for managing resistance, with action plans and coaching points
Change agent competencies and coaching points (FIRS)
Primary Results
Individuals learn the dynamics of change and receive tools to help manage themselves and their team for high productivity during organizational change.